Country: Taiwan · City: Taipei
In Class Couchsurfers in Class is a platform which aims to combine traveling with education. We connect travelers, schools, host families and local guides. We invite travelers to visit schools while they are traveling in Taiwan. The travelers are not considered as teachers, they don't have to teach...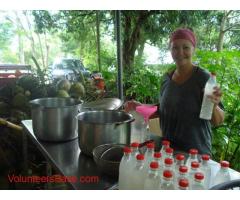 Country: Taiwan · City: Yujing
Our Eco-village includes an Organic Farm, a large Retreat Center which hosts Yoga & Meditation retreats and Permaculture Courses. In August 2015 we completed the construction of our new Yoga Wellness Center which holds regular Yoga Detox Retreats and other wellness programs. Type of help: Farmi...

Country: Taiwan · City: Tainan
I'm a bodyworker (biodynamic craniosacral) and facilitator (individual and group) who designs and runs retreats (mostly healing retreats) to support people in their healing processes. I'm working on turning this into a strong community-based social enterprise, a vision now referred to as "Tainan R...

Country: Taiwan · City: Taichung
We are a non-profit organization starting from Vancouver and we renovated a 36-year old house into a platform for exchanging and sharing multicultural and arts and also a shelter for runaway cats. In August 2014, we began our global village project in Taichung, Taiwan. We are looking for people wit...