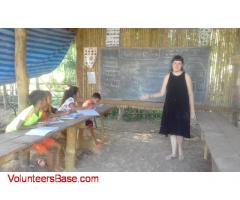 Country: Laos · City: Muang Không
We are building Mud House and Organic Farm at Ban Thapho Tai in 4000 islands on Don Som island next to north of Don Det, Mouang Khong Champasak in southern Laos nearby Cambodian border we would love to have 6 volunteers to help us to Build Eco Mud house and green Vegetables plantation at our small ...

Country: Laos · City: Luang Prabang
BigBrotherMouse.com A book for every child Do you remember the first time you were captivated by a fun, exciting book? Children at a rural book party as they discover the fun of reading Do you remember the excitement of rushing home to read a book that you hoped would never end? Many Lao childre...