Hosts

Country: Bolivia · City: Santa Cruz de la Sierra
ALBA CUMECO es un movimiento pedagógico que quiere una educación Activa, Libre, centrada en el Bienestar de l@s estudiantes y fundada en el Amor. Nuestro método CuMeCo Es nuestro método educativo cumple la misión de Sembrar un CUerpo fuerte, una MEnte afinada y un COrazón compasivo. Nuestro método ...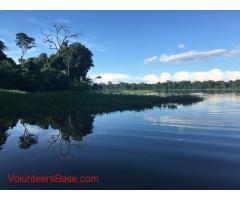 Country: Bolivia · City: Riberalta
Sustainable Bolivia is a US registered non profit created in 2007 and based in Riberalta, in the Capital of the Bolivian Amazon. To develop our organisation and projects on site we need various profiles of volunteers to work in the administration (communications, marketing) or to help us out develop...

Country: Bolivia · City: Cochabamba
Tenemos un restaurante de comida local, estamos intentando implementar algunos platos nuevos y bueno necesitamos una persona que nos pueda dar una mano a cambio de alojamiento y comida, no son muchos dias a la semana, asi que es bastante tranquilo