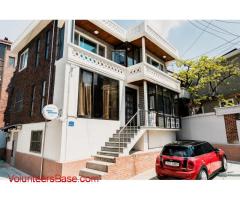 Country: South Korea · City: Seoul
We are a nice hostel in the amazing Hongdae area of Seoul, very close to many shops, restaurants and clubs! We are a big family, laid back and friendly, and we are looking for new people to join our daily adventure! Our guesthouse's motto is "come as a guest, leave as a friend" so we especially woul...
Country: South Korea · City: Busan
Welcome to Busan! We are a corporation that owns both a Hostel and a Language exchange Café, we are based in one of the city's most lively districts, located near two very important universities, and only 15 minutes away from the beach. Our goal at Lzone is to provide the local students and resid...