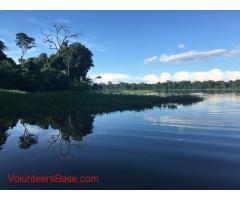 Country: Bolivia · City: Riberalta
Sustainable Bolivia is a US registered non profit created in 2007 and based in Riberalta, in the Capital of the Bolivian Amazon. To develop our organisation and projects on site we need various profiles of volunteers to work in the administration (communications, marketing) or to help us out develop...

Country: Bolivia · City: Cochabamba
Tenemos un restaurante de comida local, estamos intentando implementar algunos platos nuevos y bueno necesitamos una persona que nos pueda dar una mano a cambio de alojamiento y comida, no son muchos dias a la semana, asi que es bastante tranquilo

Country: Bolivia · City: Cochabamba
Currently the following areas and projects need support: * Project Working with Children: We need people with experience and Education pedagogica with Children 4-13 years of popular sectors. Very good with children and school workers. (Having organized courses, workshops, games, dynamics, strength...