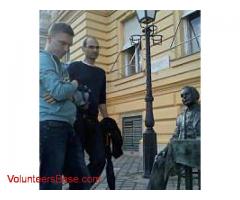 Country: Hungary · City: Budapest
Hello! I am a painter for 5 years now and my new exhibition called "Traveller's Tree" is all about people like you travelling around the world... I will also travel in Thailand in four months and I would like your experience about this country and some language practice if possible. I propose for ...

Country: Hungary · City: Markoc
BATUL POMARIUM Tamas Lantos Markoc, Fo U. 10 , H-7967 , HUNGARY Tel : 36-30-389 8345 and 36 73 352 333 Fax : 36-73-352-333 Situated near the Drava River with tiny villages. 5 ha farm, mostly old fruit trees & grasslands. Old farmhouse being rebuilt. Work includes establishing a collection of loc...