Country: Bulgaria · City: Plovdiv
We are a language school in the city of Plovdiv. Our school provides English language classes for different age groups. Plovdiv is the oldest city in Europe, with many things to do and see and great transport connections to other cities in Bulgaria and the neighboring countries. It will be also the ...

Country: Bulgaria · City: Pavlikeni
We, my partner are in the process of converting a small farm with out buildings and 8000sqm ground into a small eco camping. We will offer food and accommodation for a few hours of work per day. We live near Veliko Tarnovo in a beautful unspoit part of europe. Busses. Pass every hour, we have bikes ...

Country: Bulgaria · City: Sofia oblast
Hello, I am looking volunteer in Bulgaria in the mountains / mountain hostel / work around the house and in it. Of course the food is provided, but do not expect every day :) steaks. I prefer a man because there are daily wear and cutting wood. For further details and clarifications write PM Lopata3...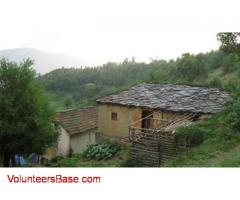 Country: Bulgaria · City: Tserovo
Our farm is a beautiful permaculture farm in a rustic rural beauty spot in the Stara Planina mountains, 1 hour by train north from Sofia. We live in a small community of organic farms. We help farm 11,000 m2 of beautiful mountain land, in the scenic Iskar Gorge region. We are 2km up the mountain fr...

Country: Bulgaria · City: Near Veliko Tarnovo
We have multiple tasks and projects this year needing willing volunteers who are not afraid to get their hands dirty and enjoy working outside. For the last 4 years we have hosted volunteers from all over the world and expect a minimum of 5 hours work per day (5 days a week) in return for bed and bo...

Country: Bulgaria · City: Voditsa
St. James' Park is in the little village of Voditsa where not a lot appears to happen everyday except that people get their lives together in pretty much the same way that they've done for years. There are about 450 people living in this village and for most of them, life is about subsistence living...